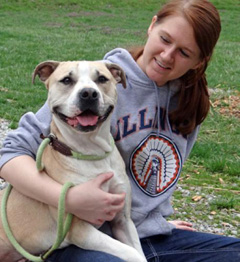 Our Dog of theWeek is Leo!
A bit on the shy side when you first meet him, Leo then opens up his heart and becomes your best friend. Give him some love and he melts like butter.
And wait until he smiles! The world lights up around him.
Oh, and did we mention his favorite treat? Peanut butter!!!
He's house trained and he's a bit of a talker.
He likes cats and gives kisses and kisses. His leash skills are wonderful, as he stays right by your side. He's a loyal boy, a great companion and a loving dog.
He gives awfully good kisses too.
Any family will be lucky to have such an amazing canine.