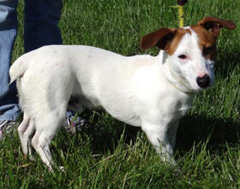 Our Dog of the Week is Meatball!
Meatball is a big goof ball! He is a feisty, little Jack Russell Terrier that loves exercise and toys.
He makes a great kisser and lap warmer too. With this guy, you need to have an active lifestyle. Walking, jogging, biking are some things he might enjoy.
Are you interested in clicker or agility training? This guy would be a great candidate.
Older kids are recommended with Meatball as he seems a little cautious around the young ones.
He seems to get along well with other dogs, but we always recommend a meet and greet. So, call us if you'd like to bring your furry friend down to meet Meatball. He's such a clown.