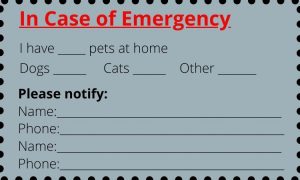 Emergencies situations can catch us off guard, forcing us to make quick decisions.  Sometimes those decisions can include what to do with our pets.  Whether you are forced to be away from home or are physically unable to take care of your pets , finding somewhere for your pets to go or someone take care of them is not always easy.  This is where some pre-planning can save you and your pets lots of heartache and stress.
The first and most important step is to come up with a list of people that you can trust with your furry family members. There is a lot to consider.  For example, depending on the situation, will your pet need in-home care or will they need to go to someone's home temporarily? Either way, make sure that your emergency caregiver has keys to your home and access to your pets.
Consider whether your pet is a good fit for the person you are asking, as well as whether they are a good fit for your pet. Will they need to administer medication, purchase special food, or provide a lot of exercise? Is your pet good with children or other animals?  Can the person care for your pet in their home or will they need to visit your home. If so, how many times a day? If you have more than one pet, can the same person care for them all?
Once you come up with some names, talk to them and see if they would they be willing to help care for your pet in an emergency. It's best to have a few people in mind in case their living situation or workload changes after your initial conversation. Write the names and contact information down and keep it somewhere other people know should you be unable to relay the information. You may want to carry a card with you that states that you have pets and the emergency contact information in case of an accident. This is also helpful if you are in an accident with a pet.
If want to be really prepared, you can create an emergency kit for your pets.  Assemble a file with notes about any medical needs, likes and dislikes, veterinary information, special food or allergies, feeding schedules, and any key words or phrases they know like "potty", "go outside", "stay".  Include notes about favorite toys, treats or beds, especially if your pet will be leaving your home.
Coming up with an emergency plan ahead of time can be a such a help should an unfortunate situation arise. Knowing your pets are loved and safe if you can't be with them will save so much added stress.