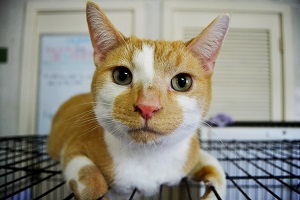 You may have been in this situation: you're at Petco or Petsmart, picking up a new tux for your pup to wear for his birthday next week, when a curious sight catches your eye – three cats lounging in a kitty condo right inside the store. The store doesn't advertise cats for sale, so why are there cats almost every time you visit your local Petco or Petsmart?

All of the cats at Petco/Petsmart are from an animal shelter/animal rescue group.
These stores don't sell cats or kittens. Instead, they team up with local shelters to provide a space where kitties who need homes can meet a variety of different people who are (likely) already animal lovers!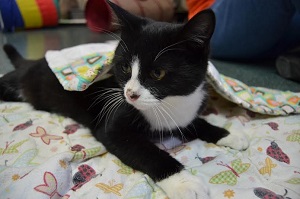 The Brown County Humane Society teams up with the Bloomington eastside Petco and the Martinsville Petsmart to showcase cats until they find homes. The applications are reviewed and approved by the shelter, but you can fill out the application and, once approved, pay the adoption fee and take your cat home right from the stores.
The cats are not "for sale."
The cats in these stores are not for "sale" by the store. These are animals who would otherwise be at a shelter. The stores are providing the space for free and the adoption fees go right to the rescues to care for more homeless animals. No profit is being made. Having them stay at the stores allows the cats to socialize with people and also frees up more space at the shelters themselves.
The cats at Petco/Petsmart are usually well-socialized.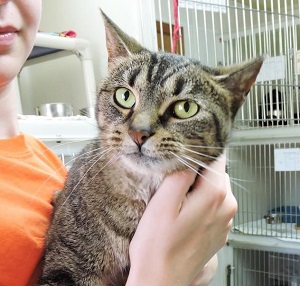 There are often multiple cats in one kitty condo, so the cats become familiar with sharing their space with other animals. Also, they meet dozens of new and different people every day. They are played with, brushed, petted, and sometimes even taken on walks around the store. Many of them even meet dogs on a daily basis!
So the next time you're shopping for a new dress for your guinea pig and catch the eye of a curious kitty in her condo, go and say hello! You can play with a cat, take some photos to share with you cat-loving friends, and learn a little about your local animal shelter. Who knows, you may even find a new best friend.
Visit our website to see our available cats at Petco and PetSmart. Just look for the cats with (Petco) or (Petsmart) next to their name. Then, stop by the stores to meet them!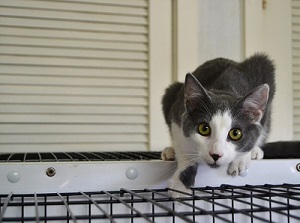 Bloomington Petco
2520 E 3rd St.
Bloomington, IN 47401
(812) 339-3452
Martinsville Petsmart
399 Grand Valley Blvd
Martinsville, IN 46151
(765) 341-2213