Serving Pets Outreach Team
Brown County has 4X more pets entering it's shelter than the national average.  SPOT is dedicated to eliminating pet overpopulation and has already provided assistance for more than 1000 spay and neuters in 2011. 
If you or someone you know needs financial assistance to get a pet fixed, call 812-703-0797. We are here to help. Be on the lookout for the SPOT van as it delivers supplies and help to dogs and cats throughout Brown County.
S.P.O.T. Mission:
Strengthen the bond between pet guardians & pets
Promote spay/neuter to eliminate pet overpopulation
Offer education to support responsible pet ownership 
Together Saving Lives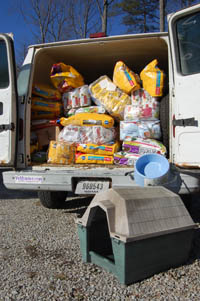 Call SPOT at 812-703-0797 if you…
Need help to fix (spay or neuter) your dog or cat

Need help with feral (wild) cats 

Need help providing a warm place for your pet

Want to get your dog off a chain

Need advice on training your pet so that it can live indoors

Need temporary assistance to feed your pet
SPOT is making a difference – over 2000 spay/neuters done in 2 years leading to fewer pets entering the shelter.  If you believe in SPOT's mission, please consider making a donation.