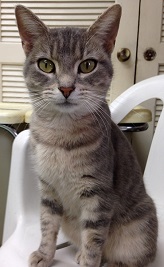 Astrid – Like a soft cloud, or a fine mist, Astrid is a gentle and smooth girl. Her beauty is undeniable: lovely green eyes, silky smooth fur, a delicate face and a petite little nose. Her personality is just the same: lovely, delicate, soft.
Astrid is so sweet she'll melt your heart. She has a tiny little meow that she uses to ask for your attention. If you wrap your arms around her and bury your face in her fur, you can feel your whole body soften and relax as her purring mixes with the beat of your heart.
Astrid is wary of other cats, so slow introductions would be best for her. She's look for you to provide the same comfort and love for her that she wants to give to you.