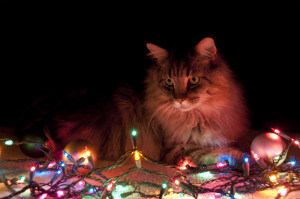 The holidays are right around the corner and that means family, presents,
and winter fun. Holidays at the shelter are not much different, except that the staff and animals rely on the kindness of donors for many of the things
that are needed throughout the year.
If you are in the giving spirit, BCHS has put together a Wish List of items that the shelter could really use. All year, the shelter updates an Amazon Wish List with things like pet supplies, cleaning supplies, and various other items that are in high demand. This year, we've put together a special Holiday Wish List to highlight some of the things that we would really love to get! If you would like to donate one of the items listed below (or any other item on the Amazon Wish List), please follow the link below. There, you can scroll through the items, choose what you'd like to donate, and have it shipped directly to the shelter. Of course, we also always accept drop-off donations at the shelter itself! Thank you for taking the time to look at the list, and a huge thanks to everyone who donates!    
Link to Wish List: https://goo.gl/Ihct8D
BCHS Holiday Wish List
Slip leads from Santa
Kongs for warm, indoor play
Alpo wet dog food for special holiday treats
Easy Walk Harnesses for fun, snowy walks
Bounce dryer sheets for keeping beds soft
White copy paper for printing adoption papers!
Kitten milk replacer – goes great with cookies!
Small cat beds for cozy winter nights
Purina Cat food for a holiday feast
Purina Dog food for a holiday feast
Gas cards – because we can't all use sleighs  
*Donations of gas cards can be dropped off at the shelter!
Go BIG!  Help us with a big ticket wish list item. Help us buy a 3-sided roofed structure to put in our new, fenced-in dog yard so that the dogs and their visitors can get in out of the sun, rain, or snow. To learn how to help, contact Jane at donations@bchumane.org