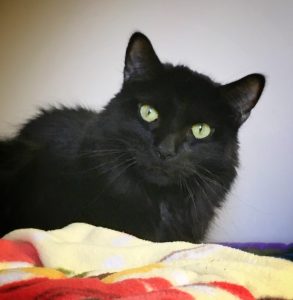 Fuzz wants a friend. Although he's come a long way since he arrived at the shelter, he's still a bit shy around people. But with other cats, he's playful and happy. He loves to sneak up and pounce, then wait for his new friend to pounce back. He makes happy little cooing noises to encourage them. His favorite is to start a game of ring-around-the-condo and get the other cats to chase him.
Friends are what helped to bring Fuzz out of his shell. He can sometimes be found hanging out in another cat's condo, or with a visitor in his. All of that friendhsip is what's helping him relax. Now he accepts some petting, especially if you encourage him with a nice treat. He'll come over for some head bumps and body rubs, too. He's taking his time, and he's taking his cues from the others.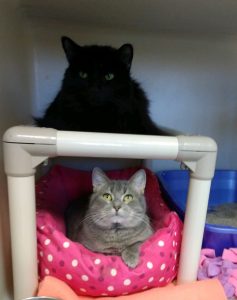 Fuzz might do best in a home with a friendly, playful cat who will enjoy his friendship. That's the quickest way for him to feel safe and comfortable.