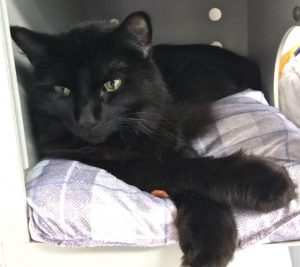 Fuzz needs a kitty friend. More than anything, he seems to want someone to play with and be close to. While he's still a bit shy around people (although he's come a long way), he'll follow the other cats around the room looking for someone who will hang out with him, his cute little meow inviting them to play along. He's like a kitten in a very large, fluffy body.
Fuzz is working very hard to improve his social skills. He doesn't mind being out with people and allows gentle petting and head scratches. He enjoys sitting in the window or curling up for a nap in his bed.
Fuzz would love a less-active home with a kitty buddy to play keep him company.