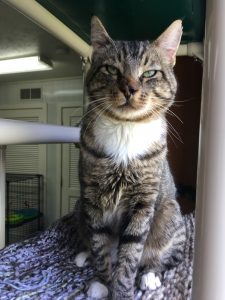 Merle has the handsomest macho/masculine face, a bit like a prize fighter who has spent time in the ring and has the scars to prove it. But those days are behind him.
Whatever Merle's situation was before he got to the shelter, there's one thing we know he wants now: love. Love, love, love, love and more love. If you want a cat that will shower you with affection, it's Merle. He's a manly cat that has turned into a marshmallow with a heart of gold. He's playful and energetic and just very sweet.
Merle has been known to give hugs, too. You'll just have to visit him to get one of those.