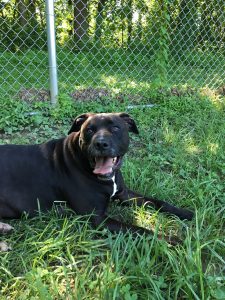 Moby is still at the shelter, after more than a year and a half. We're asking for your continued help as we look for his forever home. He loves his time with his staff and volunteer friends, but a home of his own is the ultimate goal.
Moby had a tough beginning. Details are sketchy, but at some point in his first home, he was shot. He lost his second home when his guardian was arrested and jailed under chaotic circumstances. He came to the shelter frightened, confused, and very wary of strangers.
Yet here he is, loving life and making friends. His world continues to expand as he gets to know more and more people. He is cautious with strangers and needs to meet people slowly, but once he has made friends, he is a goofball and a half. His smile is so big when he sees a friend.
Moby loves to splash in the creek and chase frogs, hunt for wild raspberries, and ride in the car. Oh how he loves the car! When he has exhausted himself, he will lean his entire weight against you and let out a sign of contentment that will warm your heart. This may be the best life he has had so far. But shelter life should never be permanent.
Moby may never be the dog who goes to the dog park or hangs out at the neighborhood barbecue. His interactions should probably be limited: no little kids, no other pets, not a lot of visitors to the home. But for the person who becomes his new guardian, Moby will be everything: a companion on lonely nights, a fellow adventurer, a great listener, a reminder to play, and an example of resilience over adversity.