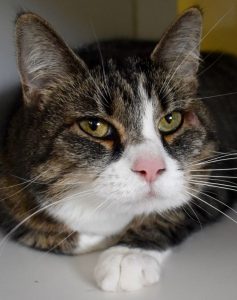 Mia hasn't quite figured things out yet. We can tell she wants to be loved and when she allows herself to receive pets and scratches, she enjoys it. She's not afraid of people and will come right out of her condo and crawl across your lap, even seeking out attention.
Mia is also declawed. While x-rays didn't show a need for repair surgery, that can still cause pain. She came in as a stray so she's had to worry about protecting herself without her claws.
Mia sometimes finds it difficult to relax and accept the affection she's getting. She's getting there, though, and when she's in a home of her own and feels safe and comfortable, we think she's going to be a very sweet girl.