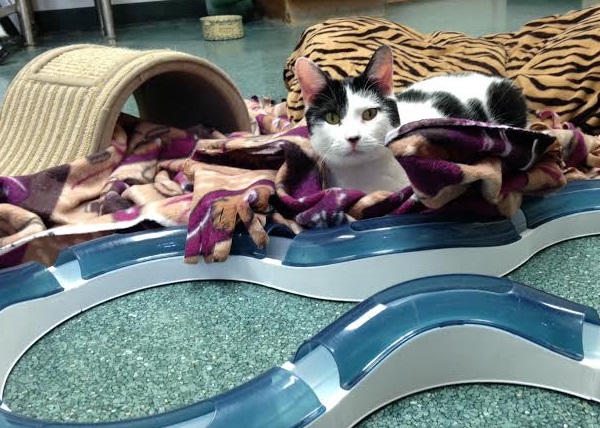 Lou Ann – This is Lou Ann…and this is her playground. In fact, wherever Lou Ann is, it's a playground. We've never seen a cat who loves a game as much as she does. Chasing the ball around the track, rolling in the blanket, leaping to catch the feathery toy. She'll happily entertain herself all day.
Lou Ann actually started out a little shy, and it was her playful nature that allowed us to begin to bond with her. Now she prefers it when you play with her. As soon as she sees you, she'll meow and run to you, hoping for some fun.
We can always tell when Lou Ann's been out, because she manages to gather every toy into the middle of the room, where she sits on them, guarding the fun all to herself. She can be a bit possessive, so she'd do better as an only cat.
Lou Ann does eventually wear herself out, and then she becomes a sweet fuzzy ball of purrs. She especially likes to roll on her side to give you plenty of petting space. She would also like a super-soft kitty bed. She's very fond of kitty beds.