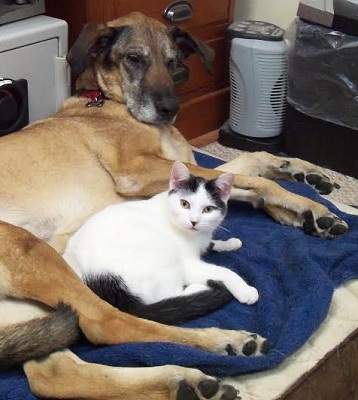 Joule – Not many cats love dogs, but Joule isn't just any cat.
Joule was originally diagnosed with the Feline Leukemia virus and was in foster care for many months until new tests could be run. That meant he couldn't be at the shelter, but it also meant was got a chance to really get to know this little guy. Best of all, his new tests showed that he didn't have FeLV after all! Now he's ready to go to his forever home.
If there's a lap in the house, that's where you'll find Joule! Anyone's will do and he doesn't care if you wiggle and fidget, he'll make himself comfortable, as long as he's close to a person. And if there is no lap available, he'll be happy to play a game of pounce with you. Joule has a jewel of a personality and delights in being around people. He'll even meet you at the door when you come home. Perhaps he learned that from the dogs he was fostered with, which he tried to make his best friends. Cat, dog, person…Joule loves everybody.
Joule is ready to start his new life. Will it be with you?