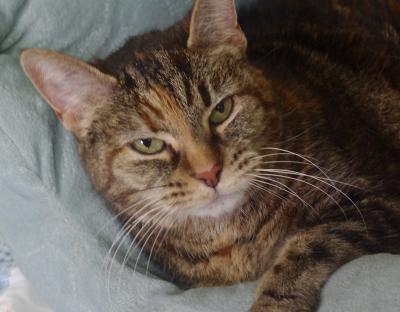 Bea – She's is a lovely, refined lady of "a certain age." Quiet, gentle, and undemanding, she's doing her best to adjust to shelter life with the grace and dignity that are her nature, but it can be difficult to relax and rejuvenate with so much activity.  She would love to be in a home where she can enjoy a more quiet, calm atmosphere, surrounded with gentle, loving care. Perhaps a window to sit in to watch the birds, or a nice soft bed to relax on would be nice. Her needs are simple and her heart is big.
Bea was declawed, so if you're looking for a cat that's been declawed, she's a good match.
As a senior cat, Bea is eligible for a waived adoption fee as part of our grant from Dog Tag Brewing, in honor of Sgt. Jeremy McQuery.