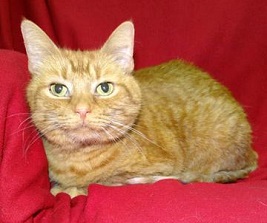 Reese – her cute and pudgy little face and Cheshire cat smile is enough to melt your heart.
Reese has come a long way since her first days at the shelter and we are very proud of her. Her owners were unable to take her along when they moved and she had a very hard time adjusting to shelter life, hiding all day long inside her enclosed bed. But we wouldn't give up on her and she didn't give up either.
Now, she happily comes to the front of her condo, waiting for it to be opened so that she can come out to explore.  She'll bump heads with you, hoping for pets and scratches, and will reward you with the loudest purr. She also loves to sit with the other kitties in front of the window and watch the birds outside.
Reese will be a great companion!