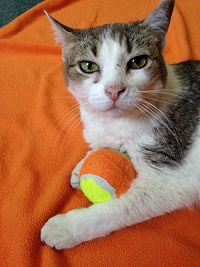 Kiki is not only our Cat of the Week, she's our Cat of the Month.
That's because Kiki has been with us since October of last year!
This wonderfully affectionate and playful girl was given up simply because her owner said she reminded her too much of her ex-boyfriend.

Kiki loves to get a good brushing. She'll sit on your lap, lie next to you on the couch, curl up on a blanket…wherever she can be close. She also loves a bit of play.
Kiki has developed a condition in her shoulder that causes her some pain, so she's gets an aspirin every three days. She'd love to have a home where she could lie on a soft bed or pillow, relax in the warm sun, or sit by the fire on cold days.
Kiki may have been given up, but she doesn't hold a grudge. She's got so much more love to give. Who could ask for more?