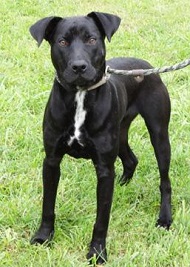 Bentley – Not everyone gets to own a Bentley, but you could! 
Those luxurious, super powered cars remind us a lot of our little Bentley at the shelter.  He's black, and sleek, super fast and very smart. 
Just a youngster, Bentley has lots of high powered puppy energy.  He's learning to play fetch and is eager to please anyone who plays with him.  Bentley's favorite toy is a big soft squeaky ball.  He cocks his head every time the ball squeaks, like he's thinking "Where did that noise come from?"
The kennel staff love Bentley because he keeps a really clean kennel and seldom barks.  This boy has lots of love to give, more than you would ever get from a car and he's just as sophisticated!