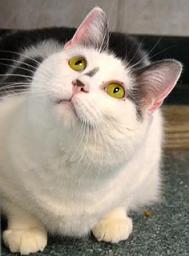 Twinkles – a star, waiting for her shining home. Even though she's been at the shelter for more than a year, Twinkles' personality burns just as brightly, every day.
Twinkles loves for you to sit and let her come to you. When she does, she'll roll over on her side, waiting for the appropriate belly rubs and chin scratches. She adores getting brushed.
Twinkles likes being with other kitties, but she's not allowed to have a roommate, because she likes their food even better. As a result, she's put on a bit of excess weight. She'd love to have a family to play with, so that she can slim down a bit, and have fun while doing it. It might take her a few minutes to get comfortable with you, but patience is worth it with this girl.
Let Twinkles bring some sparkle into your life!