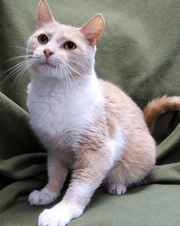 Sweet Baby – If ever a cat lived up to his name, it's Sweet Baby. 
Sweet Baby was surrendered by his owner who could no longer care for him.  He's been such a lovely kitty to care for, because he's so quiet and gentle.

If you sit on the floor, Sweet Baby will be one of the first to come to you for attention, but he's not pushy about it.  A gentle head bump and body rub to let you know he's there, then he'll lie down and wait for his turn. 
We hope he doesn't have to wait too long for his turn to go home, though.