Chance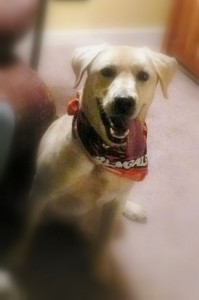 Hello, BCHS!
We adopted a yellow lab from your location in early October.  His name was Cleveland, but we changed it to Chance.  Just wanted to let you know that Chance continues to adjust very well to his new home and family. 
He is spoiled rotten and dearly loved by all six of us.  He goes on an almost daily walk in our local parks with all of us,  immediately took to his kennel (which he only goes in for bedtime), and quickly became a bit of a snob (he ignores the 5 dogs next door, preferring to visit with the Sheltie in the yard on the other side of us.)  
We are a homeschooling family, so Chance is rarely alone.  Not sure what his homelife was about prior to coming to BCHS, but I assure you his new home loves him to pieces.  
I'm including a recent photo of him (his "Dad" is a Bengals fan), and hope it encourages you in the work that you all do on behalf of animals that need good homes.  Thanks for caring for him until we found him.
Blessings,
Toni Harlow