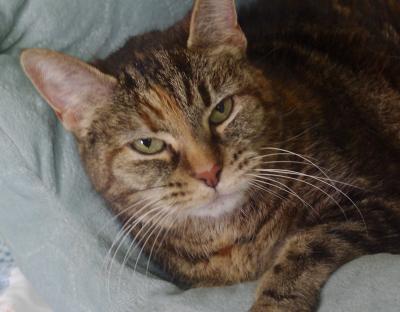 Dixie Bea arrived at the shelter in July of 2016, surrendered by her owner at the age of 12. She was declawed, much too thin and with a personality that could only be described as "grouchy." It wasn't long before the staff and volunteers fell in love with her.
Unfortunately, Dixie Bea didn't always show love in return. She hated other cats. She was sensitive to touch, which is common with declawed cats, and would immediately swat or nip if your petting hit a problem spot.
Underneath it All
If you spent enough time with Dixie Bea, though, you discovered that underneath that "attitude" was an affectionate, sweet, and playful cat. Dixie Bea loved climbing onto your lap for a nap. She enjoyed riding on your shoulder and snuggling up under your chin. She delighted in "helping" in the office. Once you learned to interpret her clear warnings, the swatting and nipping wasn't really an issue.
But in a crowded shelter, with kittens and healthy adult cats, a grouchy old girl like Dixie Bea wasn't getting any attention. For over a year she waited. Special promotions, featured Facebook posts, her own adoption event, a waived adoption fee, nothing seemed to be working.
And then she got sick. Diagnosed with early stage renal failure, it seemed that Dixie Bea chance at a new home was gone.
Along Came Jennifer
Then along came Jennifer. She'd seen all of the stories about Dixie Bea and thought that surely someone would step forward to adopt her. When no one did Jennifer decided she was not going to let Dixie Bea spend any more of her time in a shelter.
Jenn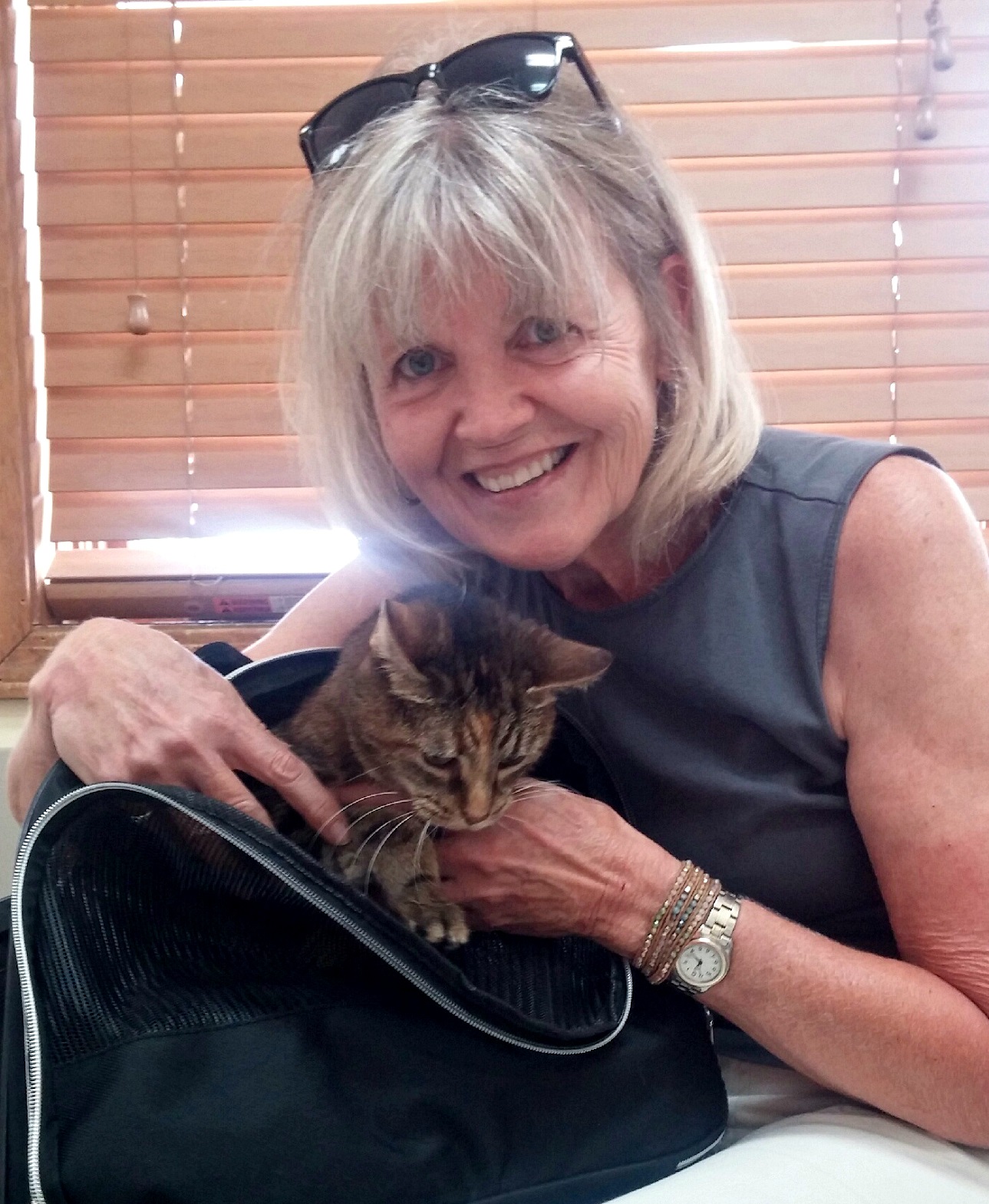 ifer thought she was doing Dixie Bea a favor. She didn't realize how much she and her husband would get from Dixie Bea in return.
I couldn't abide the indignity of this old girl competing with younger, cuter competition. She was coming home with us. Within days of bringing her home, her head butts, sweet chirps and loud purring when petted made us both putty in her paws.
She had days where she acted like a kitten; tearing through the house and bounding up the stairs like the hounds of hell were on her heels and nearly causing us heart failure by seeing just how high she could climb.  She loved "hunting" catnip mice on a string; exploring every inch of her new home, trying out different perches until she found the ones she preferred; and whenever she'd catch either my husband or myself reclining, she'd jump  up, snuggle right under our chin, and purr loud enough to rattle windows!
However, Dixie Bea had been diagnosed with Stage I renal disease. By the time we had her tested again, we discovered it had progressed to critical levels – even with the special diet and supplements the shelter's vet had put her on after the original diagnosis.  In the end, what we'd hoped would be at least a couple of good years with her turned out to be a little over two months.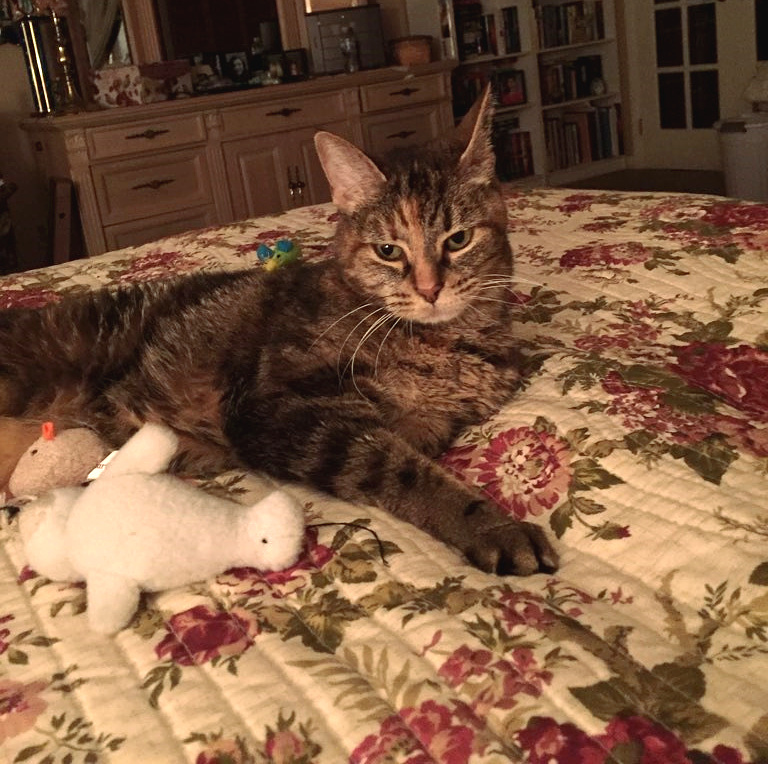 Two months of watching an old cat become young again, seeing her quickly claim her new home and settle in like she'd been with us from the start.  Two months of laughing at her head butts and the chirping noises she'd make when she wanted your attention.  But most important, two months of knowing we'd made a difference in her life. 
Dixie Bea had my husband wrapped around her paw in a matter of days. He was with her when she left this life, lovingly petting her and reminding her she was not alone. It was the least we could do for all the love and joy she brought us in that short time. Losing her was tough, won't deny it – but we'd do it again in a skinny minute.  She was worth it.
She Got What She Deserved
Dixie Bea deserved to experience those months of comfort and fun in a home of her own and to be wrapped in love when her time came. Jennifer and her husband deserved to experience everything they got from Dixie Bea in return.
You Can Help the Others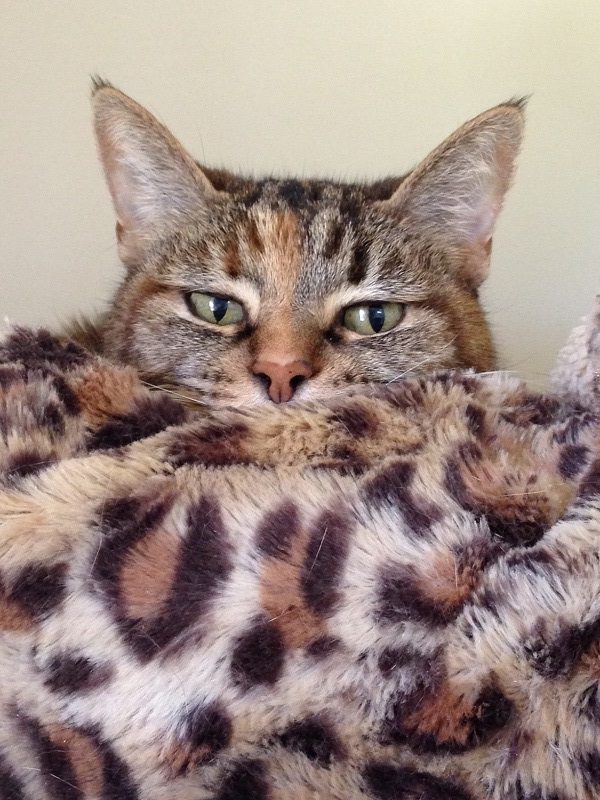 There are so many other animals like Bea…older, maybe even with special needs…that come into the shelter. Maybe they've lost their long-time, loving home or maybe they've been on their own and don't know what a loving home is. Most of them will need extra time and extra care before they get homes.
You can help us keep them safe, healthy, and cared for until they have a Jennifer of their own. Please consider a donation on behalf of Dixie Bea and Jennifer to make sure that every animal knows the comfort of a real home.