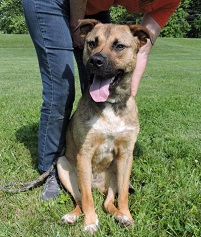 Coleman – Look at that smile. You can tell that Coleman is a happy dog. The reason? He's going to spend time with you…the most fun he can imagine.  
When Coleman gets leashed up for a walk, his tail immediately starts wagging.  Throw a ball for him to retrieve and Coleman happily chases it, but mostly because he gets to bring it back to you. Coleman is really a people person…that's where he finds his joy.
But, just when you think you're the best thing in the world…wait!  What was that jumped across the water?  A frog?  Let's catch it!  Splash!  Then he's right back at your side…dripping wet!  You can't help laugh at him, and he seems to be laughing right along with you.
Coleman's happiness is contagious!