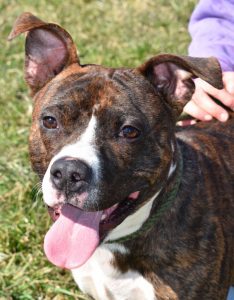 Freckles is a fun-loving and high-energy boy who hates being in the kennels The stress and pent-up energy makes him literally bounce off the kennel walls, so people pass him by without a chance. That's too bad, because Freckles is friendly, fun, and smart, and loves to learn new things.
Freckles got to spend time at BloomingPaws recently for training and enrichment. Now he's ready to show off a bit. Here we highlight some of the things he can do to keep his brain working and his energy focused.
If you're looking for an active, playful, smart dog, Freckles may be the fun you're looking for.
Next, Freckles is showing off the "place" and "come" commands he learned at BloomingPaws, LLC. For a high-energy boy like him, this works great for knowing when (and where) to stay put. No jumping on the guests or running out the door.
Then, when it's time, you can all go out to play and run and burn off all of the calories he's putting on because you're spoiling him so much. Freckles is a smart, loving and friendly boy who can't wait for you to add him to your family and help him learn new things.
Freckles is interested in everything, so learning to "heel" when he's walking helps keep him focused and by your side. He needs lots of exercise and play time to burn off his energy, but when it's time to be on his leash, he's learning to walk like a well-behaved gentleman (and not the goofy teenager he really is).
Who's a good boy?
Not all training is about learning to be well-behaved, sometimes it's just for fun and enrichment. Freckles loves to learn, and giving him new and exciting things to try is lots of fun. Who knows what could be in his future? There are more than 50 recognized dog sports in the U.S, maybe one would be great for him. Whatever the case, you'll have fun together trying.
When he's not working on his skills or running around outside, Freckles really just likes to hang out with his people, as shown here with his visit to a staff meeting. He loves his toys and he's especially happy when he gets to be part of the activity. When he's finally worn out, a nice comfy bed or couch to lounge on is his idea of the perfect end to the day.
Freckles is truly a delight. His youthful attitude and playful nature make him so much fun to be with. With the addition of his new skills, he's learning how to manage his energy when he needs to.
To help Freckles stay on track, a free session with a trainer at BloomingPaws, LLC will be provided to his adopter.