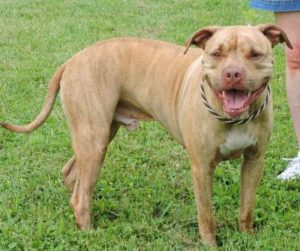 Smokey Joe has fur like an expensive piece of velvet, and his coloring is just as special–photos don't do it justice. Although he is a bit quiet in his kennel, that changes once you leash him up for playtime. That's when he shows his light-hearted side, playing keep-away with the rope toy, or just running for joy. After that, it's time for belly rubs and back wiggles. If you have time, a nice hike or walk around town is great fun!
Smokey Joe is a very sweet guy. He enjoys being near his people, curling up on a soft bed, chewing on his toys. His loves to destroy the stuffed ones, gleefully pulling out every bit of fluff he can get to, like he's opening a special present. Most of all, though, he just loves companionship. Lying next to you where you can reach him for head scratches and petting his velvety fur will make him especially happy.
Smokey Joe likes to play with some dogs, but he should be the only pet in his home.