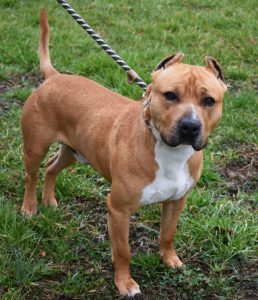 Goose got his name because he's such a "silly goose." Playtime is like many other dogs: running, fetching a toy, rolling on his back for petting. But he does it all with such an expression of joy!
Goose is smart and learning new commands is fairly easy, especially if treats are involved. He loves to go on walks, although he does require a stronger handler given his size and strength. Using a harness helps and he's learned that wearing one is the key to getting to go on walks with his person.
Goose is all about people. He loves to be with them. He doesn't "play well with others" though and should be kept away from other dogs and animals.