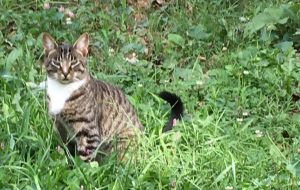 Have you ever seen a cat running loose near a busy road or scurrying through your yard and worried about its safety? You may have wanted to help, but weren't sure what to do.
Here are some tips that can help the next time you see a lost kitty:
Observe from afar: Does the cat look healthy and friendly?  If so, it probably belongs to someone nearby and is best left alone. Cats have a better chance of reuniting with their owner when they're left in the area in which they're found. Less than five percent of stray cats that are brought to the humane society are reunited with their owners. Unless they are in danger, it is best to leave healthy and friendly cats where you found them.
If a cat is in danger or appears unhealthy, try to capture the cat by approaching slowly and cautiously while speaking in a calm, gentle voice.  Use food to coax a scared cat.  Have a carrier or box with holes in it ready to contain the cat.  If you are able to, gently place him in the container.
After capturing the cat, check for a tag and call the owner.  If there is not a tag, take the cat to a veterinarian or shelter to have it scanned for a microchip.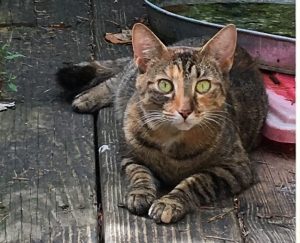 If no owner is located, consider keeping the cat safely indoors at your home while you continue to look for an owner. This will help reserve critical space at the shelter for other cats. If this is not possible, take the cat to your local shelter.
You can search for owners by, making large, neon posters with the cat's picture on it and post in stores and on the roadsides near where he was found.  Post the picture on Facebook pages like the Bloomington Lost Pets and the Brown County Critters pages.  Create flyers with the picture and distribute to neighbors, local businesses and veterinary offices, and give copies to your delivery drivers (UPS, FedEX, USPS).  Since they are all over the neighborhoods, they are a good source for getting cats back home.  Be sure to provide the flyer to your the local animal shelter as well as shelters in surrounding counties.
If you are not able to locate the owner and are not able to keep the kitty, contact your local animal shelter and arrange a time to relinquish the kitty.
If you were not able to contain the kitty, you can still help.  Try to get a photo of the cat and post it on the Brown County Critters Facebook page and notify the nearby animal shelters.  If you continue to see the kitty, call Animal Control at 812-988-6655 so that they can set a trap.