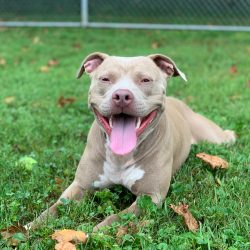 A perfect day for Luna includes chasing balls, playing in water, stretching out for belly rubs and spending time with her favorite peeps. You can just see the delight in her eyes when you pick up a ball to throw. She goes from running 50 mph after a ball to collapsing in the shade to catch her breath. Soon she's up again for another round.
Cooling off in the mist of a hose is great fun, too! Luna also likes car rides and settles down nicely as she enjoys watching the scenery going by.
Still a young gal, Luna will do great with an active family and a daily exercise routine. Stop by to visit Luna today or apply online at
www.bchumane.org/adopt/
and an adoption counselor will follow up to answer any questions.