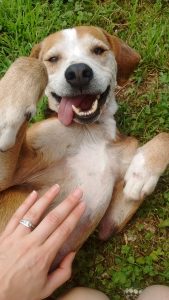 Seeger might be one of those rare breeds – a Brown County Porch dog.
This ol' boy would love to lay on the front porch with his best buddy and just watch the world go by. While you're enjoying a lemonade on the porch, Seeger will be snoozing by your side.
Need a friend to walk with you to the mailbox? Seeger will be right there by your side. He might like to have a ball tossed around on the way. You can see he's a bit of a goofy boy.
Seeger has been there, done that, and is looking for a buddy to share it all with.