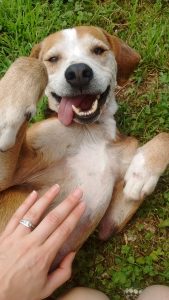 Seeger has undergone a wonderful transformation. When he first arrived, he was in pretty bad shape…very thin and slow. We called him a porch dog, feeling that his favorite thing was to hang out with his person and watch the world go by, living a quiet life of relaxation.
Well, now that he's eating well and getting lots of attention, he's like a different dog! He's put on weight and now has the energy he was missing. It turns out he's actually a big goofball. He loves tennis balls, he's got lots of pep in his step, and he's just fun to be with. It's been wonderful to watch him feel better every day.
Seeger is still a great companion for porch-sitting, but tossing some tennis balls and giving some belly rubs may go a long way toward producing one of his famous goofy grins.