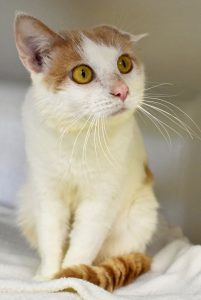 Gawain's big, round eyes give him the appearance of constant surprise and wonder. That's a little bit of his personality, too.
The world seems like a pretty big place to Gawain and he's figuring out his place in it. Like any stray once they get to the shelter, he's had lots of strange things happening to him, some good and some not very enjoyable (shots, medication, getting neutered, etc.) But once he experiences something good (affection, good food, petting and scratching) he discovers that the world may contain some pretty wonderful things and he likes it.
It's a joy to give him those good things and watch him blossom.