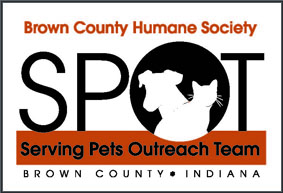 We've received a $12,000 grant from The Humane Society of the United States that will be used to help our successful Serving Pets Outreach Team, which is dedicated to eliminating pet overpopulation by providing assistance for spay/neuter, feral cat management and pet training to mentor a new program to address pet overpopulation in Jackson County,
The SPOT program has provided over 3,000 spay/neuter surgeries since its launch in 2010 and helped countless families with straw for winter warmth, enclosure fences and dog houses to shelter pets from inclement weather.
Sue Ann Werling of Brown County Humane Society says "The SPOT program of the Brown County Indiana Humane Society has spayed/neutered its 3,000th pet. Due to a generous HSUS grant, the SPOT program now has the funds to mentor SPOT- like spay/neuter programs in surrounding counties. Our first venture has taken SPOT to Jackson County and the FLASH program. We look forward to providing the guidance and assistance to make FLASH a great success, and help Jackson County Indiana reduce its pet overpopulation problem."

Erin Huang, Indiana state director for The HSUS stated "Through the SPOT program, the Brown County Humane Society and its very dedicated staff have done an incredible job in greatly reducing pet overpopulation and improving the lives of animals in their community. We hope with this grant, Brown County Humane Society will be able to expand this success into Jackson County." 
S.P.O.T. Mission:
Strengthen the bond between pet guardians & pets
Promote spay/neuter to eliminate pet overpopulation
Offer education to support responsible pet ownership
Together Saving Lives
Call SPOT at 812-703-0797 if you…
Need help to fix (spay or neuter) your dog or cat

Need help with feral (wild) cats 

Need help providing a warm place for your pet

Want to get your dog off a chain

Need advice on training your pet so that it can live indoors

Need temporary assistance to feed your pet
If you would like to help S.P.O.T  please considering making a tax deductible donation to offer your much appreciated support.