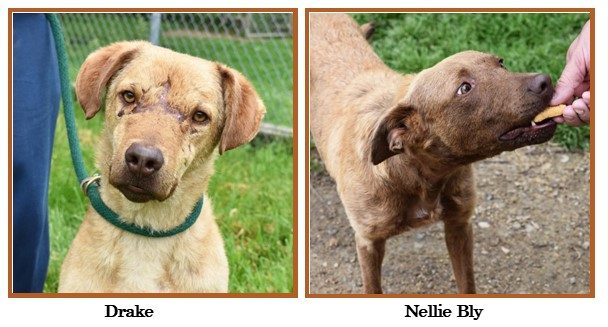 Nellie Bly and Drake really need a friend they can count on. Someone they can trust to teach them about a world where people are kind. Someone to give the loving home that they both so desperately need.
Nellie and Drake have been with us for nearly two months and are struggling to make progress because of the stress of the kennel environment. Despite the devoted love and care we try to provide to every animal at the shelter, some simply don't do well in the shelter. 
These two would greatly benefit from a home where they can soak up the love of a family and overcome their individual challenges. But, if a forever home isn't found right away, a foster home away from the shelter could also be great for each of them.
They are not a bonded pair and do not need to be fostered or adopted together.
To meet Drake or Nellie Bly, 
complete an online adoption application
 or visit the shelter. Please keep in mind that while appointments are no longer required, they will take priority over walk-in visitors.
Nellie Bly

Female

2 years

38 pounds

In shelter since May 1, 2021

 

Nellie Bly does not seem comfortable when other dogs enter her space. If a foster or potential adopter has another dog, a slow and cautious introduction would be needed. Nellie does scare easily and can be considered a "flight risk" so she will require someone committed to ensuring she is always secure in a leash and harness when outside until she is comfortable in her new environment.

 

Street savvy, Nellie Bly is trying her best to learn the ways of humans. She had been running as a stray for quite some time before she came to the shelter. We aren't sure if Nellie has ever actually experienced the comforts of a home. She is looking for someone who has the patience to help her learn how great a home can truly be. She is still leery of new people and will not readily approach a stranger. But, can be won over with treats!

 

Nellie loves to zoom in for a treat and a quick pet before retreating a few feet and gaining her courage to come back for another treat. Be sure to have a pocket full of goodies when you meet Nellie because she can play that game for hours! Nellie Bly still has lots to learn about being relaxed and comfortable with people friends, but with a little patience (and lots of treats) Nellie is an eager student.

Drake

Male

2 years

44 pounds

In shelter since May 10, 2021

 

Drake has done well when meeting other dogs. He is not very interactive with them, but can live with them comfortably. He does scare easily and can be considered a "flight risk" so he will require someone committed to ensuring he is always secure in a leash and harness when outside until he is comfortable in his new environment.

 

Drake is in desperate need of consistent socialization and being taught how to enjoy the dog life. We are sure he has quite a story to tell about his "life before the shelter" but we'll probably never know what it is. What we do know is whatever adversity he endured prior to arriving at the shelter he is doing his best to put it behind him. But, the noises and unfamiliar atmosphere of the shelter are causing a barrier for him to truly have that chance to relax and learn how to trust people.

 

Each day he works hard to learn what makes his people friends happy and courageously steps outside his comfort zone. But, our environment doesn't allow this to happen with the consistency he needs to truly be the dog he can be.

 

Working with Drake and watching him grow more confident will be a fulfilling adventure for the special person that adopts Drake.