Our Cat of the Week is Collie
My gorgeous green eyes are so enchanting, don't you think?
I am a dilute Torbie, which means I am a light gray tabby with orange highlights. And check out the tip of my tail–it's cream!
I have a  sweet nature and don't like a lot of fuss. A soft bed in the sunshine, a gentle petting or ear scratch, cuddling–that's what makes me happiest!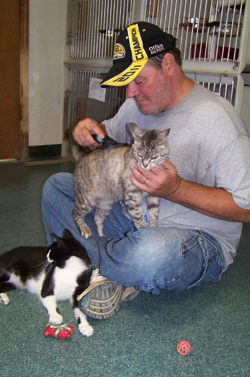 I get along fine with other cats of all sizes and ages. I like playing toys, but I think my favorite thing to do is to sit on your lap, look into your eyes and tell you how happy I am that I have a forever home!
Watch my video and you'll see what a sweetie I am!