Our Dog of the Week is Hephner!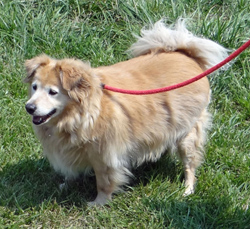 Sweet 9-yr-old senior with a heart full of love ready to meet that special someone!
My name is Hephner and I am gentle and lovable.
 I have a calm, quiet nature and truly enjoy people. I am friendly and affectionate and get along well with children, other dogs, and cats.
I adore car rides and am always ready for an adventure!
I also walk well on the leash and am a pleasure to spend time with. I am a little on the "fluffy" side, but with more walks and close attention to my diet, I know the pounds will fall off of me.
Check out my video–but watch out, you'll fall in love with me, I just know it!