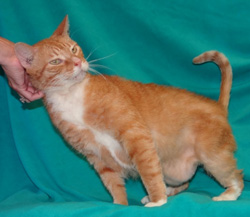 Our Cat of the Week is Clyde!
Sexy Senior Looking for Forever Family!
I'm Clyde. Okay, I'm not really sexy, but that got your attention, didn't it? Hee-Hee. I'm a pretty funny boy, if I do say so myself.
I'm also pretty laid-back, getting along with other cats. I'm not crazy about being picked up. I prefer to climb onto things myself. I really like to turn on the charm and rub against your legs for attention. That's your signal to pet me and love on me.
 What do you say, do you have a place in your heart for a character like me?