Our Cat of the Week is Mosley!!
Out of Work Cuddler Needs A Job!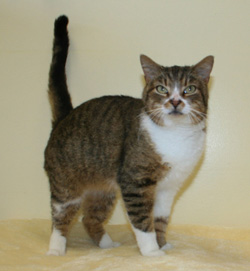 My name is Mosley–and I am purrfect for that role. I am an affectionate, gentle guy who totally melts when my belly is rubbed.
I am the best cuddler you will ever find. All you have to do is call my name and I will come running. I am a bit of a talker too. I like to ask about your day and then tell you about mine.
My front paws are declawed, so I will need to be kept indoors; my fabulous personality will make me a great indoor companion.
Give me a lap and I'm a happy guy! To hire me, call the shelter today!
Here I am, showing you how cute I can be!