Our Dog of the Week is Skye!!
Skye is a gorgeous brindle and white American Staffordshire Terrier.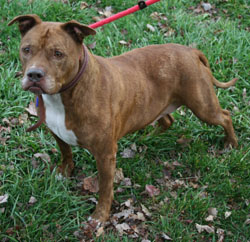 Skye is currently in a foster home, so please call the shelter and we will arrange a meeting with this lovely lady. Skye is a loyal gal who will follow you around. She has a calm and quiet nature with a very sweet disposition, and is completely housebroken.
Skye gets along great with dogs of all sizes, as well as kids of all ages. She is quite happy to snuggle in a soft dog bed as she is nearly a senior (8 yrs old).
She doesn't like to be crated and her foster mom has found no need to crate her. Skye walks well on the leash and loves to chase squeaky toys. She also rides very well in the car.
She does take allergy pills every other day, so would need an owner who could give her the medication consistently. Skye is a wonderful girl who has much love to share!
Check the video of this goofy, happy-go-lucky lady as she plays and plays!