Our Dog of the Week is Kent!
Kent here! I am a gentle, shy boy who is looking for a forever home. I am a Beagle/Chow Chow mix.
I will need some work to come out of my shell–but I will be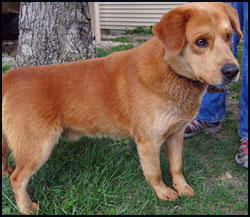 worth it!
Watch my video as I wear a leash for the first time, and I learn that people just want to love me! How cool is that?
I love other dogs. I am a fast learner—some say I'm treat-motivated, but who doesn't do tricks for hot dogs?
I love to be petted. I wasn't sure at first, but boy, does that ever feel good. I like to run around a bit each day, but I'm only about a medium energy level.
Please come and visit me at the shelter. I can't wait to meet you!
Check out my video.