Three-Legged Pit Bull Finds Home in Foster Care
 Gabby, the young caramel colored pit bull mix, perked her head up at the sound of the kids screaming playfully outside.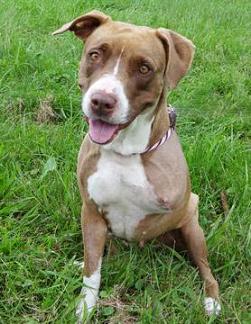 "She has anxiety issues," her owner, Caramee Bryan, said. "My neighbor set off firecrackers after the Super Bowl
and she didn't even notice, but the sound of cooking shows puts her on high alert. It adds a whole other element
of, 'Where do you come from?'"
The owner looked down at her dog lounging beside her that had endured a long journey before being adopted into the home. It was a journey that consisted of losing a leg, being fostered then taken back to the shelter, and then finally adopted.
"What is it that makes you so anxious about the sound of cooking shows?" Bryan asked the dog, knowing she'll never learn the truth, but also recognizing that the dog had improved drastically from when she had been a foster pet.
***
Gabby came to the Brown County Humane Society on August 18, 2014.
Found in Brown County with a severe leg injury she was picked up by a passing motorist and taken to the Bartholomew County Humane Society. After examining the injury, Bartholomew County decided they were not equipped to handle the injury and called the Brown County Humane Society (BCHS) after hours to see if they could take her, and they agreed.
The in-house veterinary technician at BCHS determined Gabby could make it through the night and speculated that her paw had been caught in a leg hold trap. After giving Gabby some pain medicine, they tucked her in for the evening and waited until morning before making any big decisions.
"She was so calm and collected," said Jane Weatherford, treasurer of BCHS. "She licked our faces while we were looking at her wound.  She was so gentle, it was pretty amazing."
The next day, Weatherford unwrapped the bandages and realized they needed to take Gabby to a vet right away. Weatherford loaded her up in her car and took her to Bloomington Veterinary Hospital where they evaluated the leg, cleaned the wound, and determined it needed to be amputated.
It was here that Gabby met Bryan, who works at the Bloomington Veterinary Hospital. She assisted in Gabby's intake triage and immediately fell in love with the pit bull mix.
"Caramee was a really neat gal when I first met her," said Weatherford. "She had this aura about her of calm and she really seemed to have connected with Gabby."
Although the injury was serious, it was not life-threatening. Brown County Humane Society had time to reach out to several veterinarians that support their mission to find a clinic that would do the surgery for a price they could afford.  Before Weatherford left, Bryan approached Weatherford and gave her an offer she couldn't refuse.
Bryan was willing to foster Gabby after her surgery.
***
Fostering programs in shelters are huge; however, most people do not even realize it's an option. At BCHS, 154 cats and dogs went into foster homes last year. Foster families are not obligated to adopt the animal, but it frequently happens.
The benefits of fostering are innumerable, as the majority of pets that go into foster care are kittens and puppies that are too young to be adopted. Foster families provide a healthy environment for the pets and they are able to do a better job of socializing the little ones and preventing them from being exposed to infectious agents found in shelters.
The other demographic of pets that go into foster care frequently is sick or injured adults, like Gabby, who need medication multiple times a day and are unable to receive it due to the limited hours of the shelter.
Gabby was no exception. She needed pain medicine and antibiotics twice a day, 12 hours apart. Weatherford called Bryan and asked if she would still be willing to foster Gabby until she was recovered, and Bryan readily agreed to take her in.
***
Bryan lives in Ellettsville with her husband and three small children, Liam, Olive, and Edith. The dog got along great with the children and they adored Gabby. They especially loved snuggling and playing fetch with the young dog.
But the first week Gabby was at the house was a different story. Having gone from four legs to three, Gabby was uncertain about the family's hardwood floor, so they bought an area rug for her to lie on. Bryan called it her "carpet island" because Gabby refused to step off it for fear of slipping.
The family moved everything Gabby needed to the "carpet island" and were planning on creating carpet trails around their house for the dog when Bryan had a realization.
"I realized that it's absolutely a confidence thing," Bryan said. "She can walk on the floor perfectly as long as she knows she can."
The family figured this out by throwing a tennis ball.
"She wasn't paying attention to where she was on the floor and she didn't realize she was off the carpet," Bryan said.
After she realized she was fine on the hardwood, Gabby gained confidence and has refused to let her lost leg hold her back. She can jump, run, and fetch with what Bryan calls "the hop that all dogs that are missing a front leg have."
Despite overcoming her physical limitations, Bryan learned quickly that Gabby had another problem.
Gabby was deemed dog aggressive after she went after her neighbor's dogs that are also dog aggressive. The neighbor and Bryan managed to prevent injury to any of the dogs, but it showed Bryan there was an issue that needed to be addressed.
Bryan's family started making plans to work on Gabby's dog aggression until the day Gabby showed she had another psychological issue that proved to be too much for the family to handle
Bryan locked Gabby in her crate, locked the front door and left for the store for about 10 minutes. When she returned, one of her neighbors was sitting in the front yard with Gabby, waiting for Bryan. He said he had seen Gabby sitting in the front yard and, knowing she was dog aggressive, decided to sit with her until Bryan got home.
Gabby had unlocked her crate and then managed to unlock the front door. There are still teeth marks on the doorknob and it's slightly depressed from where the dog bit down to get out.
"I wish I was there when she did that so I could have seen it," said Bryan. "It was really terrifying for me, knowing that she was dog aggressive and knowing that she might have attacked any dogs that she had seen if I wouldn't have gotten home before she saw a dog."
Bryan was then concerned that Gabby might have separation anxiety.
Bryan and her family had been toying with the idea of adopting Gabby, but that incident prevented them from doing so. After Gabby had fully recuperated, she was taken back to BCHS to be put up for adoption.
"We had a lot going on at the time with our family situation and some pretty important things that needed some focus," Bryan said.
***
According to the Animal Society for the Prevention of Cruelty to Animals (ASPCA, approximately 31 percent of dogs and 41 percent of cats that enter a shelter are eventually euthanized. BCHS, although not a no-kill shelter, has not euthanized a healthy animal in four years. It has one of the highest save rates in the nation at 98 percent, thanks in part to the spay neuter program, S.P.O.T, and to the donations of numerous benefactors. The foster program also ensures that animals that may otherwise be euthanized for their physical limitations or problems are given a chance at recuperation and, ultimately, life.
For dogs like Gabby, this is a godsend.
Weatherford said BCHS has had a number of amputees before Gabby, but they usually take longer for them to be adopted.
"People are very drawn to [amputees], but the actual care of them makes it hard to get them placed," said Weatherford. "It takes a special person who is really able to help an animal like that."
It would take an even more unique person to overlook Gabby's breed, although she had never displayed any aggression toward people and does not fit the stereotype normally associated with pit bulls.
For Gabby, it took four months to find her forever home, and it was with someone she already knew.
***
Some people who foster will adopt the animal without sending it back to the shelter. But Bryan needed more time to solve some issues at home and to make sure the family could handle all of Gabby's emotional needs.
Bryan was at work when she realized she needed to adopt her former foster dog. She walked past a flyer one day that made her stop and take notice. There was Gabby, sitting tall and proud, oblivious to her missing front left leg. Her big sparkling eyes seemed to say, "I'm right here. Why haven't you taken me home yet?"
Things in Bryan's life had calmed down, and she had come to realize through her work at the veterinary hospital, that many dogs that came into the hospital were dog aggressive.
"I thought, 'Look at all these people doing it everyday. Why can't I?," Bryan said. "I saw her on the poster and realized she hadn't been adopted and it just killed me."
Bryan talked to her husband and they agreed they couldn't pass up on the opportunity to adopt her.
"I just never got over Gabby," Bryan said. "We had wanted a dog for a long time. We've had opportunities since Gabby to get other dogs and I've chosen not to, just because I compared them to Gabby and they didn't make the cut."
Bryan admitted she was nervous about calling Weatherford, saying she feared being perceived as the type of person who couldn't handle owning a dog since she had given Gabby back after fostering her.
"When she called after several months and expressed an interest in Gabby, I was just thrilled," said Weatherford. "It was one of those 'meant to be' moments."
When Bryan brought Gabby home from BCHS, Gabby went right back to her favorite place on the couch and picked up the routine right where they had left off. Bryan also discovered that Gabby's psychological issues had improved since being around other dogs at the shelter.
"I feel like I've got the perfect dog and she just hung out at the shelter for months and months and anybody else could have had her," Bryan said. "But they don't."
"It's just amazing how well she fits in with the family. It's like she has a clean slate. She's just living her life and just being herself. She really just wants to relax on her couch and snuggle, and it's amazing."
For more information about fostering a cat or dog in need, please visit the BCHS website at www.bchumane.org.
You can see a video of Gabby's story here.