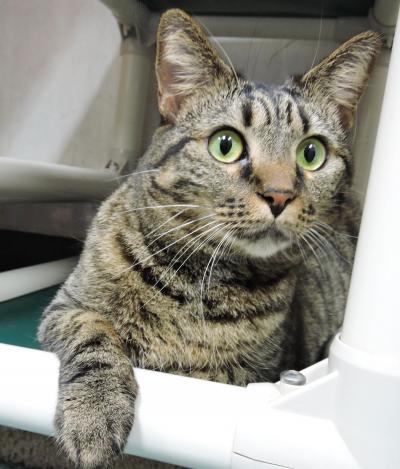 Wanda – "What's a girl got to do to get some love around here?" That's what Wanda seems to be asking. After months at the shelter, we're wondering the same thing.
There's no cat with a bigger personality or thirst for adventure than Wanda. If you like a cat with a little sass, she's is your girl. She's vocal, active, and so much fun.
Wanda is a kitty who wants your attention and she'll adore you when she gets it. The ultimate extrovert, she's happy to be the life of the party. Her intense curiosity gives her an almost constant wide-eyed look as she hones in on every noise and every movement.
Wanda will happily entertain herself, but she's really excited if you play together. She'll run and chase, but will keep checking back with you for a pet and a scratch, as if to say, "Are you watching? Look what I can do!" Once you've both worn yourselves out, she's happy to settle in next to you for some quiet time and snuggles.