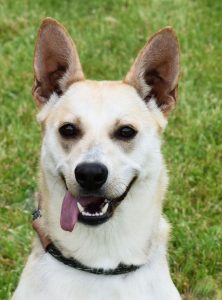 Dog of the Week – Pretty Girl
Pretty Girl enjoys long hikes, playing in the creek and learning new tricks. She is so smart and has already mastered sit and down in her short time in the shelter. She is a girl who would love to join you on your morning run or park outings to explore the world with you. No worries about having to leave her home alone, she is willing to go right along with you whatever the day may bring!
Did we mention she is smart? Given her ability to pick up new tricks quickly and her energy, Pretty Girl would make a lovely sporting companion and enjoy the challenges of agility or other sport training. But, she isn't just energy. She also loves to show off her sweet side and enjoys the company of her people as well. She basks in all the attention she is getting at the shelter and cannot wait for a family of her own to give all the love they have.
Approximate age: 2 years